Professional Septic Tank Services In Acworth
If your home is equipped with a septic tank, it is of the utmost importance that your entire septic system is well-maintained to ensure it functions properly. While even the most dedicated DIY homeowners do their best to maintain the health and function of their septic tank, leaning on the help of professionals can ensure your system operates at its maximum potential to prevent a sewage backup. More than anything, maintaining your septic system is the best way to keep your household running while protecting your family and your property from the threat of a sewage overflow.
Here at One Way Septic, we specialize in all areas of sewer and septic to keep your system functioning optimally. Whether you need a routine inspection or your need to replace your septic tank, we offer all the solutions you need under one roof. Keep reading to learn more about our Top Rated Local® septic tank services in Acworth, and contact our team to schedule an appointment. If you're experiencing a septic emergency, call us now for 24/7 emergency assistance.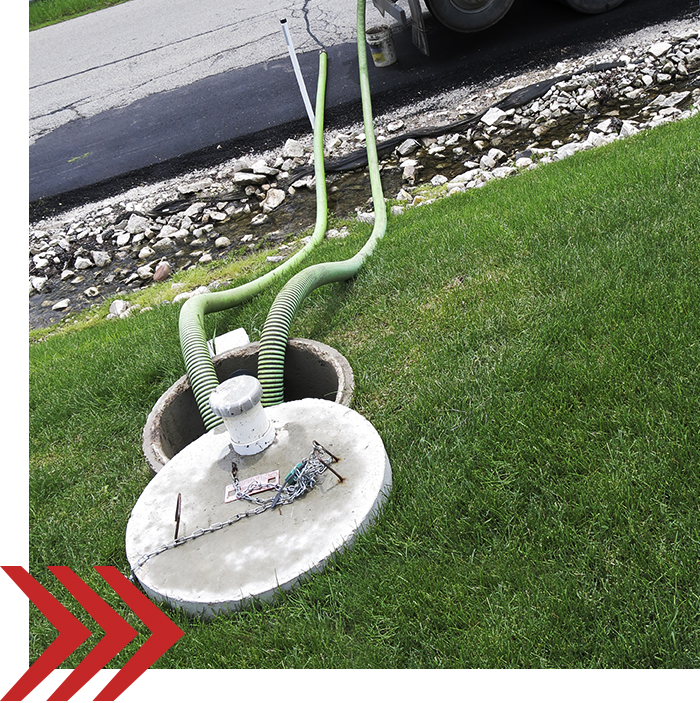 Top Rated Local® Septic Tank Services
*If you don't see a service you need on the list above, please do not hesitate to call us to find out how we can help.
Why Choose One Way Septic for Septic Pumping?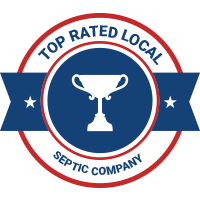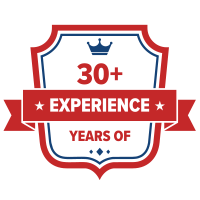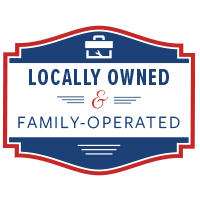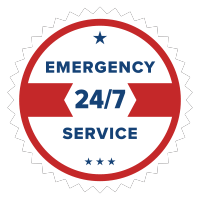 Let the One Way Septic Team Fix It
Here at One Way Septic, helping you maintain a healthy septic system is what we do best. Heck, we've been helping our friends and neighbors in Acworth and beyond maintain their septic tanks for more than 30 years now. During that time, and with thousands of successful repairs, replacements, and emergency backups under our belt, we have fine-tuned our processes to ensure our customers get the very best service each and every time.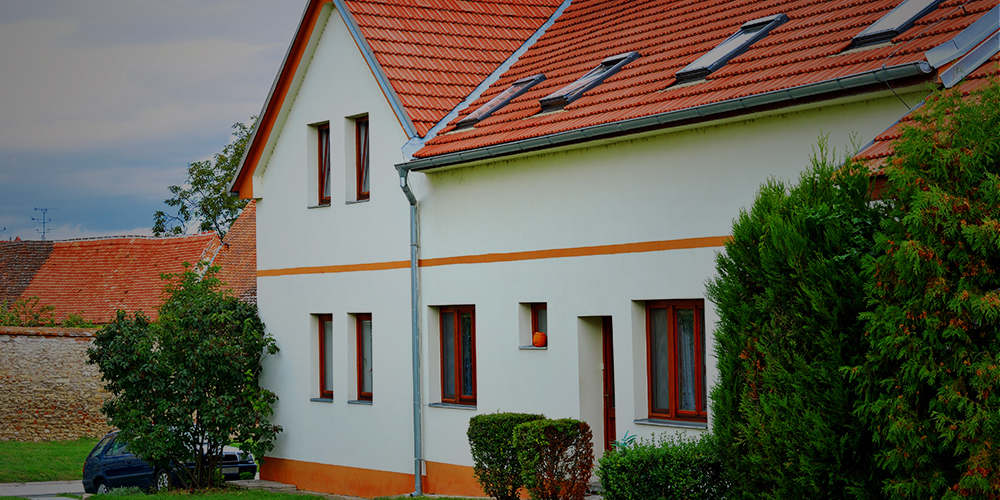 Our Promise To You
In our more than 30 years of experience, we have earned an impeccable reputation for:

Our Commitment to Excellence In Everything We Do

Offering 100% Customer Satisfaction Guarantees

Our Meticulous Work Ethic

Staying Current On New Innovations and Technologies

Always Putting the Customer First
To ensure you get the right septic tank service for your specific needs, we promise to provide you with a thorough inspection and a detailed estimate with our honest recommendations. You can feel confident in knowing that we will always offer fair, reasonable, and competitive rates to accommodate every budget.
Not only that, our team is professional, knowledgeable, courteous, and honest. You see, we understand that you're dealing with enough stress as it is in having to deal with a septic tank issue. In an effort to minimize any stress for you and your family, and make your entire experience with us a positive one, we pride ourselves on being polite and personable. What's more, we treat people the way we would like our family to be treated — with dignity, respect, and transparency.
You're More Than Just a Job to Us
As a local, family-owned-and-operated septic company in Acworth, we look at every job we're called out to as more than just a job — we look at it as an opportunity to build new and lasting relationships with the people in our community. You see, we want forever customers, not just a quick fix. We want you to feel like you always have someone on your side who you can trust when you have a septic emergency, you're in need of a repair, or you need routine maintenance on your septic tank system. That's why you can always count on the One Way Septic team to treat you like family.
Our Commitment to Excellence
When you partner with us for a septic tank service, we want you to feel confident in knowing you've partnered with the best team for the job. We stand by our unwavering commitment to excellence in everything we do. Our priority is restoring your home or business to a safe and comfortable environment that is supported by a healthy, efficient, and reliable septic system. To ensure your service is completed with maximum precision, care, and attention to detail, our team will walk you through the process and maintain an open and transparent dialogue along the way to answer any questions you have and keep you updated. What's more, our friendly and knowledgeable service experts handle the entire process from start to finish — we never hire subcontractors.
"
Absolutely love these guys. They're very professional, courteous, reliable, and reasonably priced. We will definitely be using them again when it's time to empty or service our septic tank.
~ Sheri Hayes Robertson
We're Here to Help You 24/7
We've been in this industry long enough to understand that septic emergencies rarely wait until you're fully prepared to deal with them. That's why we offer 24/7 emergency septic backups and services so you always have a professional you can call who is ready and equipped to assist you. We will respond quickly to your request and go above and beyond to complete your service the same day.

Professional Septic Tank Services You Can Trust
When it comes to septic tank problems, every customer has unique needs. That's why we carefully and thoughtfully assess your septic system to accurately diagnose the cause of the problem you're experiencing so we can fix it quickly and within your budget.
Our Friendly Septic Professionals Will:
Complete a thorough inspection

Provide a detailed estimate with our honest recommendations

Walk you through the details

Answer any questions you have

Use the proper equipment and tools for the job

Respect your property

Clean up after the job is complete

Educate you on septic living
When you call us for an emergency septic tank service in Acworth, we go above and beyond to make sure we take care of you the same day.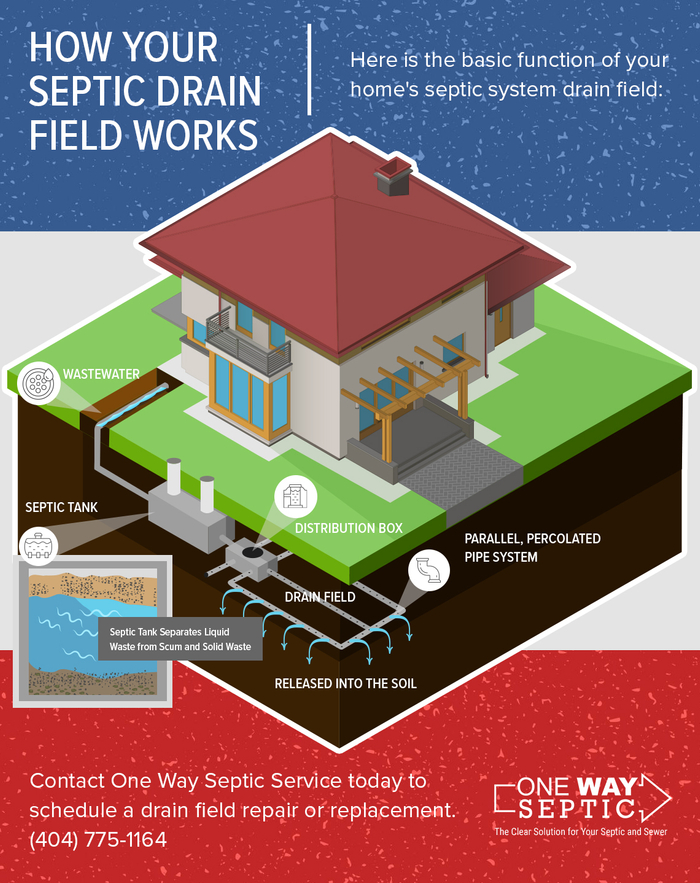 What Does a Septic Tank Do?
A septic system as a whole is designed to safely remove and treat wastewater from your home or business. The wastewater travels from your home to a large underground septic tank that treats the wastewater by separating the solid matter from the liquid matter. The solid matter settles at the bottom of the tank and the "scum," which is the byproduct of various broken-down solids like grease and fat, rises to the top of the tank. The remaining liquid wastewater is then ready to be expelled from the tank.
The septic tank is connected to a series of underground pipes that make up the drainfield where the liquid waste, also called "effluent" travels from the tank through a series of perforated outlet pipes into the designated drainfield. As the treated wastewater is deposited into the ground, it is slowly and safely filtered naturally by the soil.
Your septic system facilitates flow and containment of wastewater from:
Toilets

Sinks

Bathtubs and showers

Garbage disposals

Dishwashers

Washing machines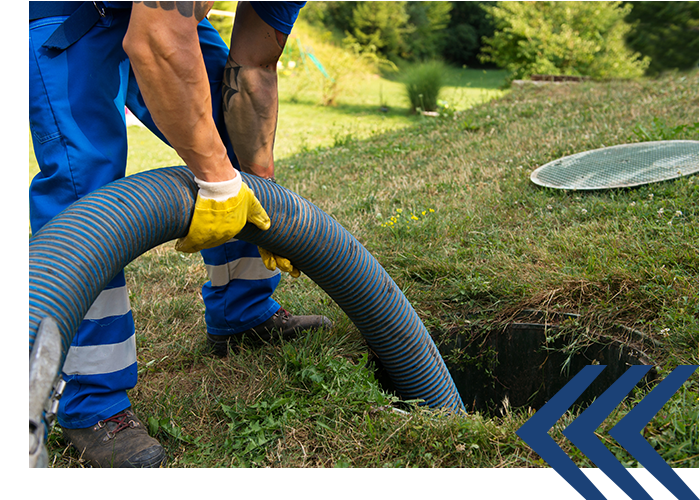 Signs You Need a Septic Tank Service
Foul or unpleasant odors from your drains, septic tank, or yard.

Slow draining water in your kitchen and/or bathroom.

Toilets are sluggish when flushing.

Gurgling noises from the sinks, shower, or drains.

Pooling water around your septic tank or in your yard.

Sewage backups in kitchen and bathroom plumbing.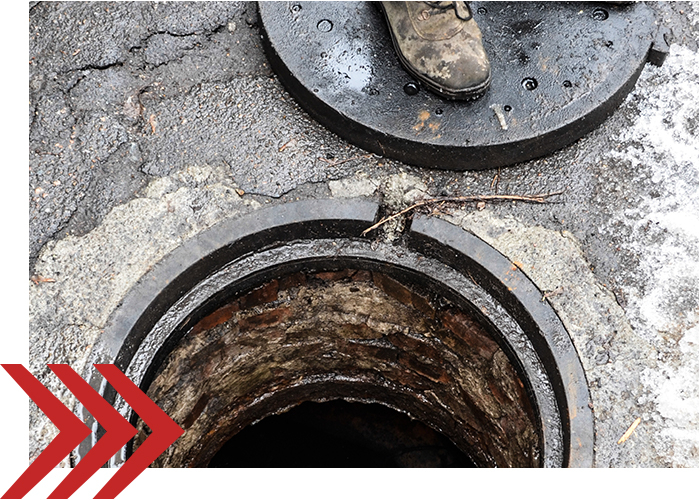 Handy Tips to Be Septic Smart
Schedule regular inspections.

Keep up with routine septic system maintenance.

Have your septic tank pumped every three to five years or sooner if you notice any issues.

Be mindful about what you flush.

Use septic-safe products.

Pay extra attention to what goes down your kitchen drain.

Be especially careful about using water efficiently.

Invest in high-efficiency products and appliances.

Avoid putting harsh chemicals down the drain.

Try to avoid using your garbage disposal.

Maintain your drainfield.

Remove trees from around your drainfield to prevent encroaching roots from causing damage.
If you notice any unusual signs that your septic system may need repair, don't wait until you have an emergency to call us.
Experience Top-Notch Septic Tank Service in Acworth
A sewage backup is more than just repulsive; it can threaten your family's health and safety, and cause costly damage to your home, business, and property. Don't wait until you have a sewage backup on your hands. Call One Way Septic for Top Rated Local® septic services in Acworth, Georgia. If you're dealing with a sewage backup or another septic emergency, please call us right now at (404) 775-1164 for immediate 24/7 assistance.
Not in Acworth? No problem! We proudly serve communities all throughout Georgia, including Stone Mountain, Lawrenceville, Snellville, Douglasville, and beyond. Follow the link to explore our service area, and if you don't see your location on the list, give us a call to find out how we can assist you.
Contact Us Today to Get Started