Emergency Main Sewer Lines Repair in Acworth
Sewer line damages can cause a lot of discomfort to your home and the community. This can be even more stressful if it happens at night or when you are not around. One of the top companies that handle sewer line repair in Acworth is One Way Septic. We work around the clock and attend to our clients at any time, providing the best sewer line repair services.
These emergencies can be stressful and we work hard to get them solved as quickly as possible. We want to help educate residents of Acworth on the early signs of these emergencies. Read on to learn more about the signs that you may need your sewer line repaired and our services. Contact One Way Septic today to schedule a service.
Signs You Need a Sewer Line Repair In Acworth

Sewage Backup in Sewer Lines
When the septic tank is full, the waste tends to back up into the sewer lines. Late detection of the backup can lead to permanent damage. Emergencies from a sewage backup can be extreme and very expensive. Therefore, if you detect this sign early enough, contact us to assist in controlling the situation.

Foul Smelling Odors
Sewer lines are designed to contain unpleasant waste odors. However, when there is a clog or the system is almost at full capacity, the sewer lines tend to release foul-smelling fumes that are noticeable over time. The smell can also be an indication of leaks and cracks. When you notice this, call us to inspect, evaluate and conduct sewer line repairs.

Slow Waste Drainage
When you begin to notice your sink or tub taking time to drain water, there could be a problem with the sewer line. If this happens, it is easier to observe water drainage to spot where the problem lies. One Way Septic identifies the issues and solves them before they escalate to become emergencies.

Toilet Flashing Difficulties
If you experience flashing problems, this could indicate that there is something wrong with the sewer lines. Unfortunately, this sign is not that effective as it happens after the damage is done. When you have toilet flashing troubles, it is time to call One Way Septic for emergency sewer repair services.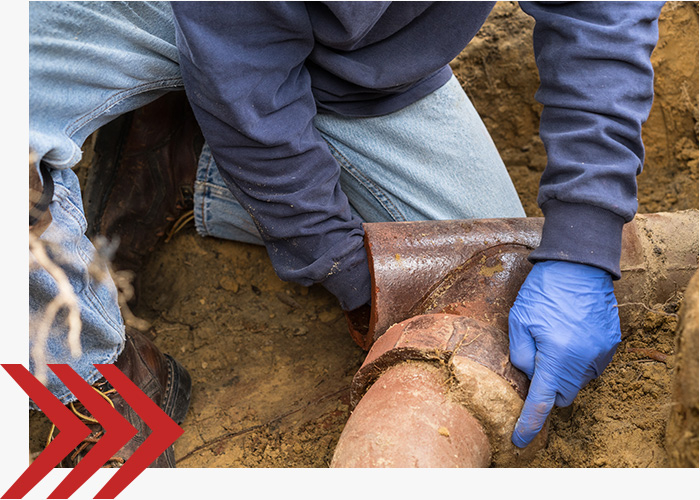 Things That May Have Damaged Your Sewer Line
What causes damage to your sewer line? There are many things that could be or already have damaged your sewer line. Tree roots can infiltrate your sewer line while in search of water. Tree roots are strong and can easily damage your sewer line. Putting stuff down your drains, such as grease, fats, oils, or flushing foreign objects down the toilet can damage your sewer line. If the soil or ground beneath your sewer line sinks or erodes, it can cause a section of your sewer line to sag, causing damage. If your pipes are old or corroding, it is more likely to collapse or break.
Along with those things that could cause damage to your sewer line, DIY sewer line repairs could cause damage rather than fixing the problem. Leave the sewer line repairs to the professionals! Our team at One Way Septic can provide you with high-quality septic repair services that you can trust. Don't try to fix your sewer line on your own, you may just make matters worse.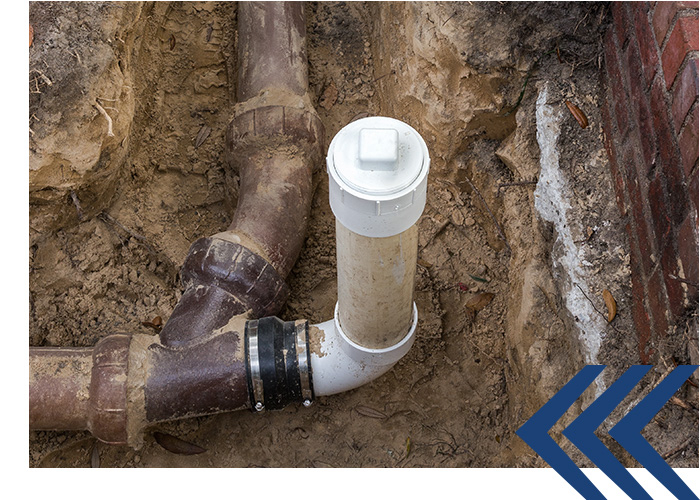 Reliable Emergency Sewer Line Repairs
A damaged sewer line is never an issue that you can ignore until a future date. This is an issue that needs to be fixed right away. If your sewer line becomes damaged or breaks, be sure to contact One Way Septic right away! We offer 24/7 emergency services to get your problem fixed as quickly and efficiently as possible.
Not only do we offer emergency sewer repair services but we offer reliable services. Being able to have peace of mind after a sewer line repair is important. You don't want to have to worry about the repair being done incorrectly or the issue coming back, and when you work with our team, you won't have to worry.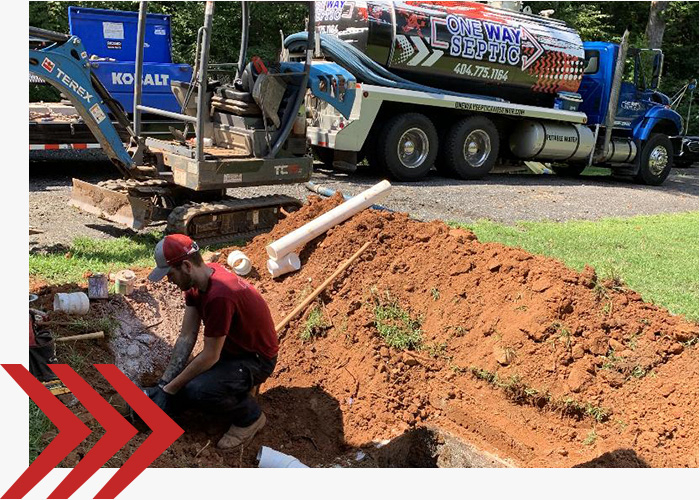 Choose One Way Septic
At One Way Septic, we offer a variety of septic services to help you when you need it most. With our sewer line repair services in Acworth, we can provide you with the quick and reliable services you need. Our team is knowledgeable, skilled, and experienced, allowing us to perform our sewer line repair services as efficiently as possible. No matter the time of day, we will be able to provide our high-quality sewer line repair services!
If you notice any signs that may indicate a damaged sewer line, be sure to get in touch with our team right away. At One Way Septic, we offer reliable, high-quality emergency sewer line repair services in Acworth. We are always ready to help you with your sewer line repairs, 24/7.